Prepping the Chassis
The first step was to remove the stock "seat" (a plastic injection molded thing) and cover up the "sharp edges" of the cockpit...and provide some "ramping" for chassis floor tubes. Cover the sharp edges so you don't puncture the seat vacuum bag. Ramp the chassis tubes so you don't mold the seat to tightly to the chassis (so you can't remove it when it hardens).
The picture at right shows the duct tape used to hold Pennon's "anti-puncture" plastic cover in place. The duct tape also covers specific sharp edges. The cardboard you see are the "ramps" over the chassis tubes and another leading up to the battery cover.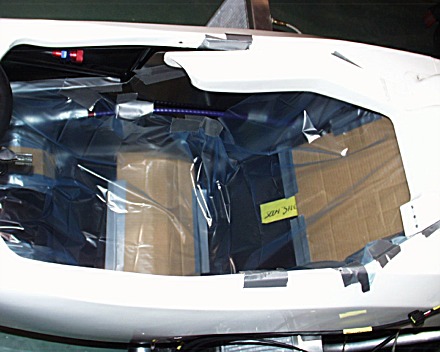 And here's another shot of the same process...looking rearward.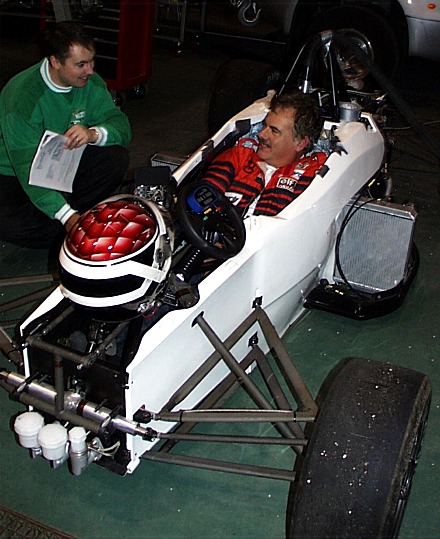 In this picture, Robert (in the car) is asking John Church (outside the car) for instructions on how to get out of the car (note the "Formula Car Exit Instructions" in John's hand).
Actually, they're discussing the "fit" of the seat and how to distribute the beads before we put in the resin.
This process, adding and removing beads, moving them around and then trying the fit took about 10 attempts before Robert felt right in the car.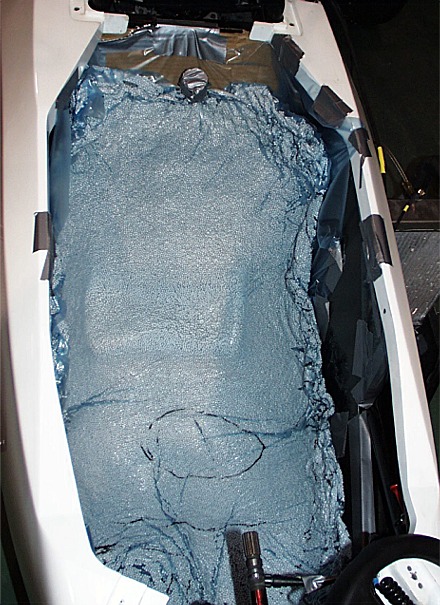 Forty five minutes after putting the resin in the bag and putting both the bag and Robert in the car, we now have our rough seat. You can see the taped up neck at the top of the seat. This is where the vacuum cleaner is connected to pull a vacuum on the seat while the seat consolidates (i.e. the resin sets-up around the beads). The vacuum is critical to ensure the removal of voids in the seat.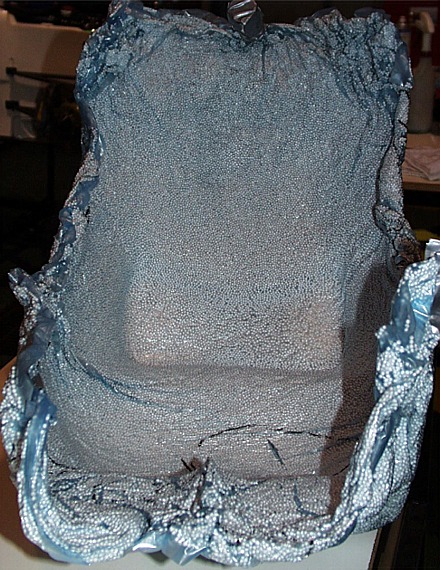 And here is the rough seat removed from the car. One good things about the large size of the FSCCA cockpit is that you can remove the seat in a single piece rather than having to split it in two (like on a Zetec car).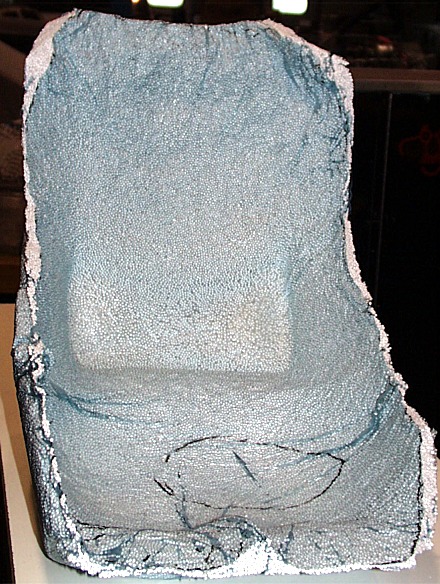 And finally, here's the seat with most or the "rough stuff" trimmed away.
Robert came up during early March and put some more work into the seat. Here's how he cut out the holes for the seat belts. He's got the seat at his house now, and I look forward to a finished covered seat in the next week or so.