12/10/01
The Kinetics-built Duratec V-6 has really been outstanding. We've had no engine problems and lots of power.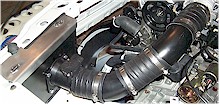 Here's our air intake system. We've put the air filter in the LF headlight opening. We seal off that area with a combination aluminum sheet/carbon fiber plate.
Archives
.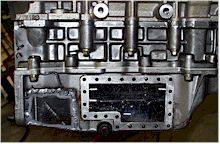 Here's the oil pan that was developed for the dyno. Note the window installed in the side of the pan that allows us to view what's happening to the oil while the motor is running.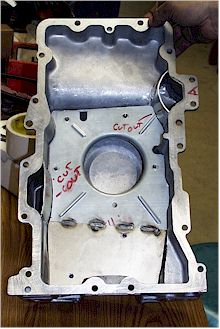 This shot shows the inside of the developed racing oil pan. Note the shields on the sides to direct the "drain-back" oil to the bottom of the pan. Also note the extension of the windage tray to fully cover the lower part of the oil sump. What you can't easily see in this photo are the spots we extended the oil pan to give it more capacity.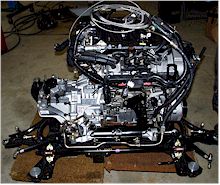 This is the motor ready to go into the car, pre-mounted on the subframe. There are a couple things to note: 1) the solid aluminum bushings in the subframe -- replacing the stock rubber parts and 2) all the front suspension and steering is on, ready to go. Someday, we'll carry a spare motor and subframe like this ready to install in the car in case of a problem at the track.
The motor installed in the car. Note the solid aluminum motor mount bushings left and right. We originally worried about vibration with the engine solidly mounted to the chassis. We have found out though, that there is no vibration issue what-so-ever. Also in this shot, you can see the strut tower brace installed behind the motor.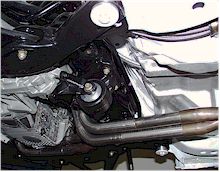 This picture is taken from underneath and behind the motor. You can see here how the stainless steel headers exit from the subframe. In addition, you can see another aluminum motor mount bushing...again, soon to be replaced with a tube steel fabrication.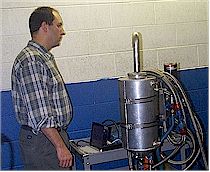 Here's Jim Bacon who helped us with the calibration of the engine control system. Jim has really been super supportive of this project.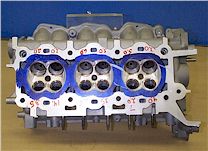 What follows are some pictures of the head being developed. A lot of work has gone into these parts.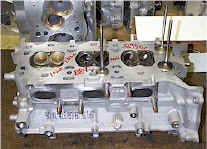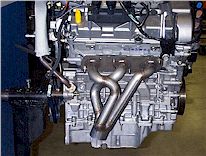 Here's a look at the first type of header we're trying. More experimentation here.
The first generation rod and piston. Some experimentation here too.
.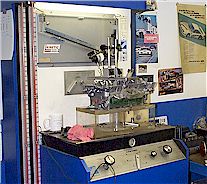 Here's a picture of the head on the flow bench.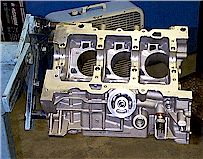 Here's the block disassembled.